Holiday Skip-A-Pay
September 29, 2020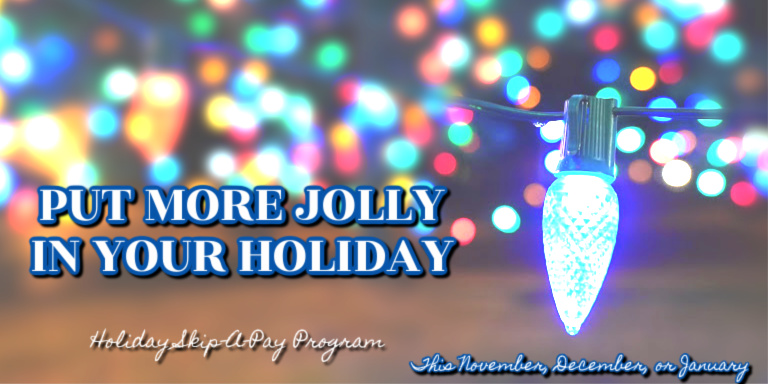 Put some Jolly in your Holiday!
As a valued FFEFCU member, you can save for holiday shopping by skipping a payment on one, two or all of your qualifying credit union loans! This excludes all real estate, credit cards, special promotional loans and student loans.
There is a $35 processing fee for the first loan, $25 for the second, and $10 for every following loan to take advantage of this great offer. Fee must be paid in advance of application, regardless of approval. Loans can only be skipped for one full month (November, December or January). If multiple loans are being skipped, they must all be skipped in the same month. Skip-a-Pay applications submitted in whole or in part that are illegible or incomplete may not be processed. To qualify for deferment you must be current on your loan payments and have a positive balance in all of your accounts, including your $5 minimum share balance. Loan(s) to be skipped must have been disbursed prior to 09/01/20 and/or have 6 on-time, monthly payments made to qualify.
Interest will continue to accrue on your loan(s) during the month you skip a payment.
Call our office today with any questions! Download the application below to apply.